Hilltop in the News
Hilltop Skilled Nursing & Rehabilitation's Izzy Wells Named "Woman of Distinction" in National Skilled Nursing Competition
Newton, Ill., Resident Honored as a "Rising Star" for Significant Contributions to Skilled Nursing
CHARLESTON, Ill. (May 1, 2023) - Izabella (Izzy) Wells, Director of Nursing at Hilltop Skilled Nursing & Rehabilitation in Charleston, Ill., has been named a 2023 "Woman of Distinction" by the McKnight's Women of Distinction awards program, one of the top national honors in the skilled nursing industry.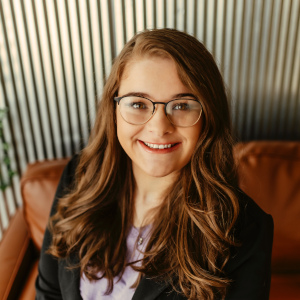 The Woman of Distinction Awards are a joint venture of skilled nursing publications McKnight's Long-Term Care News, McKnight's Senior Living, and McKnight's Home Care.
Wells - honored in the "Rising Star" category for her contributions to the field of skilled nursing - was selected by an external panel of industry experts. Rising Stars are women who are either less than 40 years of age or have fewer than 15 years of experience in the senior living, skilled nursing, or home care fields. All have demonstrated an exceptional commitment at the community or corporate level. The competition was open to all skilled nursing professionals in the U.S.
Being judged by your peers as someone who is making a difference in your chosen field is indeed an honor. Wells - a Newton, Ill., resident - has precisely done that, inspiring others and having a powerful effect on the lives of the individuals she serves. When she joined Hilltop, Wells quickly took on a wide range of responsibilities, from leading the nursing staff to overseeing the training of the healthcare team and coordinating resident care with physicians and other caregivers.
Enjoying Time With the Elderly
Wells began her nursing career early, working as an activity assistant while in high school. Later, while working as a dietary aide, "I remember listening to the nurses and Certified Nursing Assistants (CNAs) there, dreaming of the day I, too, would be a nurse," she said. Even more, she realized sometime later that she most enjoyed the time spent with elderly patients.
"I'm passionate about my residents getting respect and being treated in the best ways possible," Wells said. "As a team leader, I enjoy coaching people on the latest techniques so they can do their jobs in the best ways while being effective and well-organized. Even in my own job - whether overseeing CNAs and nurses, ensuring we're following guidelines, looking over medical orders, or helping to make decisions about sending people home - I know that to-do lists may soon have to be ripped up and rewritten."
Hardworking, passionate, and determined, Wells has worked extraordinarily hard to get where she is, and she is driven by her love for those she serves. That love is evident in the way she speaks about them. "Residents always teach, whether offering relationship advice or sharing family recipes," she said.
Her philosophy is simple and straightforward: Seniors have lived life and paid their dues. She wants them, and their families, to be able to know that in coming to her skilled nursing facility, they'll be taken care of. She knows that for most families, it's a hard enough decision to place a relative in a nursing home. "I don't want anyone regretting that they brought their loved one here," Wells said.
All of this year's honorees will be celebrated on May 22 at the third-annual McKnight's Women of Distinction Forum ceremony at the W Hotel City Center in Chicago.